Sale!
$2,156.00
80 Gallon Thermosyphon Solar Hot Water System
Please Contact A Representative To Purchase This Product
Call: 1.877.786.6299 or Contact Us Today!
Product Description
Product Documents
Product Details & Specifications
| | |
| --- | --- |
| # of People | 1-4 |
| Solar Collectors Included? | Yes |
| Designed Domestic Hot Water Production | 60 Gallons |
| Auxiliary Heat Source | |
| Design Hot Water Temperature | 130 F |
| Required Installation Time | 1-2 days (depending on experience) |
| Warranty | |
| Can do DIY Install? | Yes (we recommend Authorized Installer to Assist) |
| Manufacturer | SunMaxx Solar |
80 Gallon Thermosyphon Solar Hot Water System
Head-To-Head: 80G Thermosyphon Vs Avg 80G Gas Heater
80G Thermosyphon
Avg 80G Gas Heater
Unit Cost
$ 1,699.95
$ 1,937.00
Installation Cost
$ 0 (DIY)
$ 0 (Included)
Federal Credit (30%)
– $ 509.99
– $ 0
Total Up Front Cost
$ 1,189.96
$ 1,937.00
1 Year Operating Cost
$ 216.00
$ 720.00
Total 1 Year Cost
$ 1,405.96
$ 2,657.00
Save $ 1,251.04 With Solar
Based On National Avg Costs & A 70% Solar Fraction
80 Gallon Thermosyphon Solar Hot Water System:
ThermoPower: Silicon Solar offers pre-packaged solar hot water heating systems for both the do-it-yourself customer and the professional installer. Each system includes the primary components required when installing a solar hot water heating system. It is our goal to keep our product cost low in order to ensure that we are making renewable energy products more affordable to our community.
All systems have been tested under the highest quality standards to ensure the longevity of your solar heating system. If you are unsure of where to start or if you require guidance with your solar hot water heating system please feel free to contact a solar hot water specialist at 1-800-786-0329.
*Free Shipping on this product
How Our DIY Solar Water Heater Works: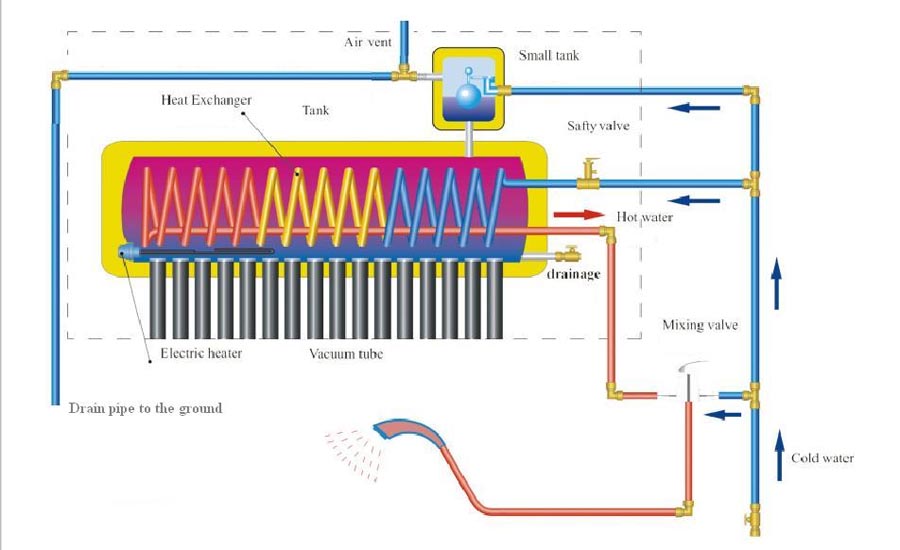 Actual Test Data:
Temperature Loss (night): <1.5 F/hour
Temperature Rise (Avg): 8-15 F/hour
Hot Water Output: 80-100 gallons per day at 100-150 F at 2 gallons per minute
Operational Basics:
Through natural convection hot water rises and cold water sinks. This principal explains the basic operation of a Thermosyphon System. Cold water sinks from the storage tank (header) into the evacuated tubes. While in the tubes the cold water is heated. As the water heats it rises back up into the header. Throughout the day all of the cold water within the Thermpsyphon System will be heated in this way.
Hot Water Production (DHW):
Each system is designed to produce 80 gallons of domestic hot water per day in a northern latitude climate. The system will produce more hot water in warmer climates which receive additional insolation. Please note that hot water temperatures are designed to reach 130-180 degrees Fahrenheit.
Specifications:
Weight: 388 lbs
Dimensions: 48 sq ft of roof space for solar collector.
Packaging: Ships via freight on a pallet or is available for local pickup (1 pallet is available for residential or commercial delivery. )
Installation: 1-2 days
Manufacturer: Silicon Solar Inc
Fitting: 3/4 NPT
Materials:
(1) SunMaxx-TS30 Solar Collector (30 Tubes)
(1) Complete Mounting Hardware Frame
(1) Insulated Storage Tank/Manifold (80 Gallon)
(1) Expansion Tank
(1) Installation Instructions
(1) SUPPORT TEAM (to help you when you need it)
Product Details:
Inner Tank Material: SUS316L Stainless Steel
Inner Tank Thickness: 0.02 in (0.6 mm)
Outer Tank Material: SUS304 Stainless Steel
Outer Tank Thickness: 0.06 in (1.5 mm)
Insulation Material: Polyurethane
Insulation Thickness: 2 in (50 mm)
Frame Material: Coated Galvanized Steel
Frame Thickness: 0.6 in (1.5 mm)
Copper Heating Coil Diameter: 0.47 in (12 mm)
Copper Heating Coil Thickness: 0.03 in (0.8 mm)
Operating Pressure: <6 bar <6 bar >
Tested Pressure: 10 bar
Applications:
Domestic hot water: Normal hot water in a house
Radiant floor heating: Small cabin system
Municipal swimming pool showers
How to Install Collector:
Follow our easy to use Evacuated Tube Collector Installation Guide. See below.
For system integration it is highly recommended that a certified SunMaxx Dealer or professional installer is contacted prior to installation. Silicon Solar has a vast growing network of dealers and installers. Please contact us for one near you.
How To Install System:
DIY*: If a DIY'er is not experienced in solar hot water it is recommended the following:
Use your own local installer or resources
Sign up for a SunMaxx Dealer/Installer Certification Course!
Note: Although thousands can be saved on purchasing direct a ill designed system will not perform optimally. (Silicon Solar is not responsible for improperly installed systems)
SunMaxx Dealer/Installer*:
A certified SunMaxx Installer will provide the following:
System Design
System Troubleshooting
System Service
On site communication and other benefits.
Extended 10 Year Warranty
*Most Installers will require a site survey fee redeemable upon completion of purchased installation.
Silicon Solar Inc has a growing network of solar hot water dealers and installers. If you are interested in having your solar hot water heating system installed for you please call us today to schedule a site survey in your area. If you are interested in signing up to become a dealer please do not hesitate to fill out our onlinedealer application form.
How to Size your Solar Hot Water System:
On average a home requires approximately 20 gallons of hot water per day per person. Using this figure you can calculate which size prepackaged system is suitable for your heating requirements.
If you are looking to utilize a solar hot water heating system for space heating needs please contact our solar hot water sales department so we may provide you with an accurate assessment of your heating requirements. Typically we are able to offset between 40-80% of your home heating needs with a payback period of less than 8 years.
How to Order:
If you are confident with your solar hot water heating requirements you can place your order online by clicking on the add to cart button which is located above. All orders are reviewed by our solar hot water heating department and contacted to ensure that you have ordered the correct merchandise for your application. In the event you have any questions our sales team is available from 8:30AM to 5:30PM EST.
Silicon Solar Inc ships products internationally please ask your sales representative for a shipping rate to your destination.
**We recommend contacting the SunMaxx Solar Residential Hot Water expert Phil Muka at (760) 230-5450 for consultation, sizing, and any questions you have about Solar Hot Water systems**
Or for more information on ThermoSyphon Solar Hot Water Systems fill out the form below
Related Videos
Related FAQs & Technical Tips
There Are No Technical Tips To Display
Product Documents
No documents available for this product.
Additional Related Resources
Product Press Releases
There Are No Press Releases To Display
Product Featured Projects
There Are No Featured Projects To Display
Tell Us What You Think!