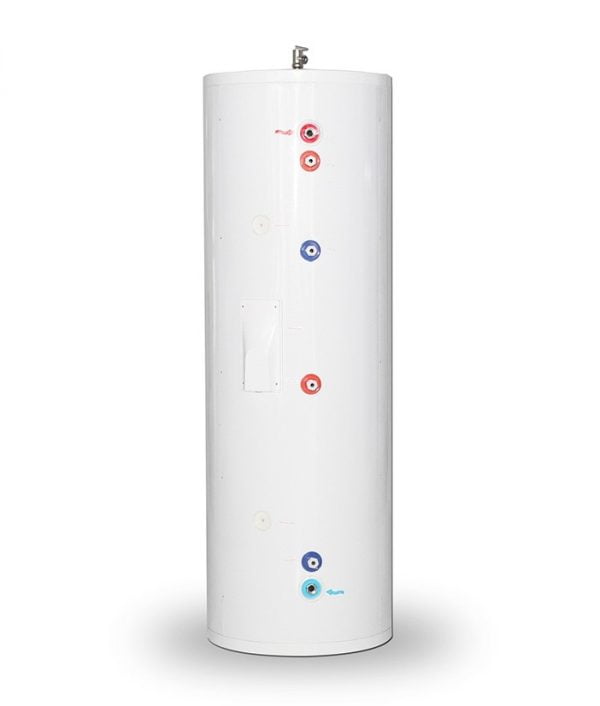 80G StorMaxx ETEC Solar Storage Tank Stainless Steel Exterior – 2HX Stainless Steel Exterior
80  gallon StorMaxx ETEC Tank
Stainless Steel Tank Exterior
2 heat exchangers coils
long lifetime due to SUS 304-2B Steel
22in x 69in (D x H)
How to order? 
Place your order online or contact our office to order directly with the sales team.
Orders placed online will be confirmed within 24 hours by our order team.
SunMaxx Solar™ is a manufacturer of solar hot water equipment.
Availability and production lead-times vary based on our production queue.
Manufacturer Direct Pricing
Please note the referenced prices online are for manufacturer direct pricing only. For wholesale & distribution inquires, please contact our office for an offer.
Want to speak with our office? Call us 1-877-786-6299
StorMaxx ETEC solar tanks are suitable for storage of hot water without contamination and for long lifetime due to their stainless steel SUS 304-2B inner material. Because of the large thickness of high pressure polyurethane  foaming layer, the tank exhibits very good thermal performance. Stainless Steel provides high corrosion resistance  and can handle constant high pressure The tank cover material – Galvanized Steel 0.5 mm thick helps to reduce  the heat loses.

StorMaxx ETEC solar tanks include 2 bare tube stainless steel coil heat exchangers. A copper coil consisting of 0.5 in diameter tube provides very good heat exchange. These tank also have  port for a a back-up electric element which is incorporated in storage tank. It allows to heat water when necessary.
StorMaxx ETEC Tank Features
Long lifetime due to Stainless Steel SUS 304-2B

Outer tank cover material – Galvanized Steel 0.02 " thick


2 Heat Exchanger inside the tank

Incorporated electric heater port

Tank port size 3/4″


Suitable for domestic 

installations
What parts & accessories do I need?
Universal fittings (for FlowMaxx series piping). Easy to stock in your tech-van, less parts to inventory.