StorMaxx™ Series
Solar Tanks
StorMaxx™ Solar hot water storage tanks from SunMaxx are industry-leading solar storage tanks ideal for a variety of residential, commercial and municipal solar hot water and heating applications, including:
Domestic Hot Water

Radiant / Space Heating

Pool / Spa Heating

Process Heating
StorMaxx™ solar hot water storage tanks are available in a variety of sizes making them ideal for the smallest 2 person domestic hot water system to the largest commercial / municipal solar heating system.
StorMaxx™ solar storage tanks are used in thousands of solar hot water and heating systems across the United States and around the world. Top StorMaxx™ tank users include Fort Hood US Army Base, Westchester Community College, the Broome County YMCA and many, many more.
StorMaxx™ solar hot water storage tanks come in a wide range of sizes for a wide range of projects so there is surely one just right for the install at hand. We have tanks for various system sizes ranging from 50 up to even 5000 gallons in storage capacity depending on a model and include copper coil heat exchanger which make the tanks hook up easily to any SunMaxx system.
Questions?
Ready To Get Started?
Get more information or order our Solar Tanks:
Related Documents & Downloads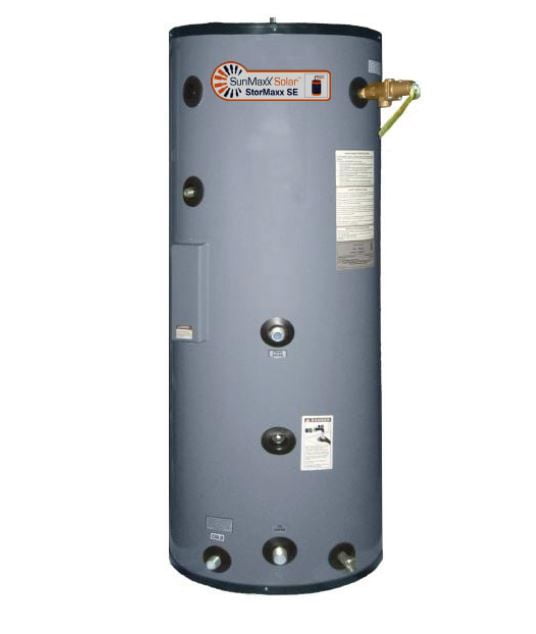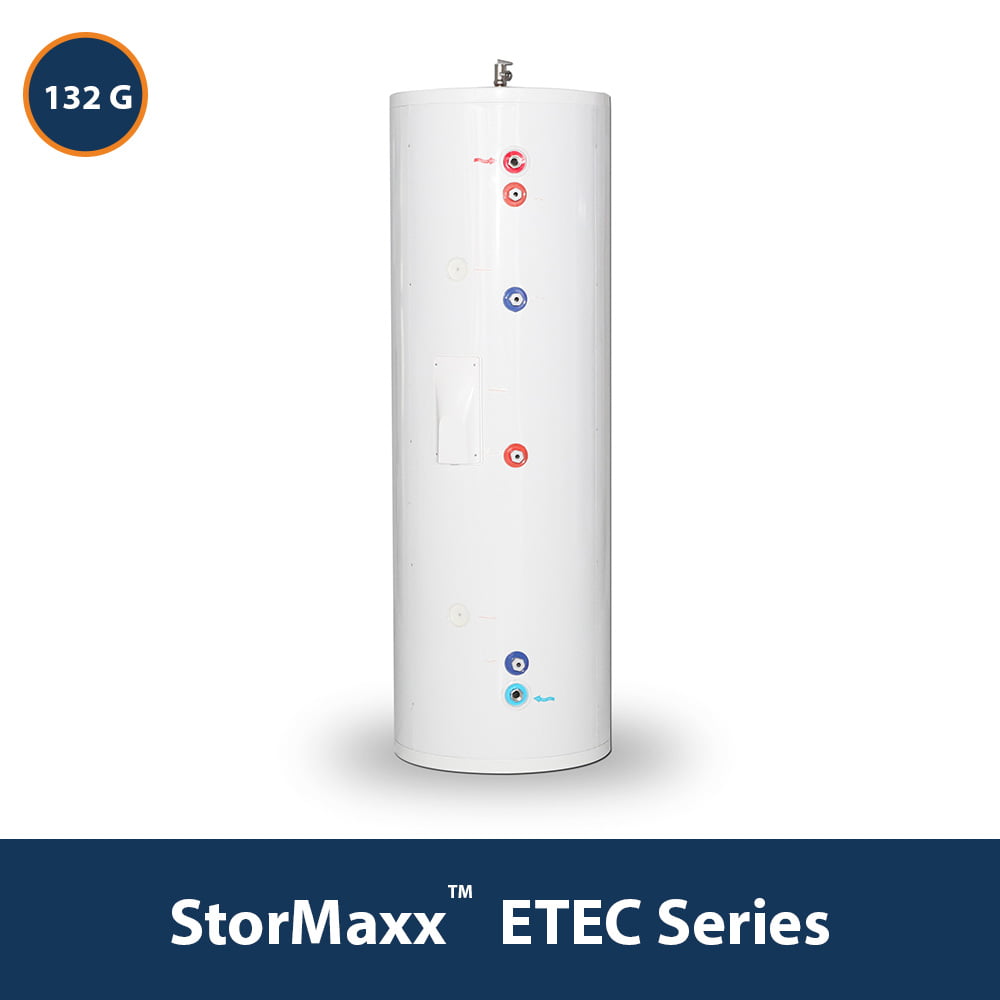 AVAILABLE NOW
StorMaxx™ ETEC Series
StorMaxx™ ETEC solar tanks are suitable for storage of hot water without contamination and for long lifetime due to their stainless steel SUS 316L inner material. Because of the large thickness of polyurethane insulation, the tank exhibits very good thermal performance.
• 2 bare tube steel coil heat exchangers
• A copper coil consisting of 0.6in diameter tube provides very good heat exchange
• The electric element is not included in the tank.
• Equipped with a TP pressure release valve to ensure tank safety
| Model | Volume (G) | Weight (lb) | Diameter (in) | Height (in) | # Heat Exchangers | Learn More |
| --- | --- | --- | --- | --- | --- | --- |
| StorMaxx™-ETEC-80-2HX-V1 | 80 | 175 | 22.5 | 69 | 2 | Click here |
| StorMaxx™-ETEC-105-2HX-V1 | 105 | 227 | 23.6 | 61 | 2 | Click here |
| StorMaxx™-ETEC-119-2HX-V1 | 119 | 254 | 27.6 | 69 | 2 | Click here |
| StorMaxx™-ETEC-132-2HX-V1 | 132 | 278 | 27.6 | 74 | 2 | Click here |
AVAILABLE NOW
StorMaxx™ NP Non-Pressure Commercial Solar Storage Tanks
SunMaxx manufactures a variety of solar hot water storage tanks designed for commercial and government installations. Combining both European and U.S. technology, these tanks store large amounts of solar energy at lower temperatures, which will reduce costs and improve the quality and overall performance of the solar systems.
• Capacities from 150G up to 5000G
• Ships flat and crated
• Durable, efficient design & manufacturing
| Model | Volume (G) | Weight (lb) | Diameter (in) | Height (in) | # Heat Exchangers | Learn More |
| --- | --- | --- | --- | --- | --- | --- |
| StorMaxx™-NP-0150G-4FT | 150 | 129 | 36 | 48 | 1 | Click here |
| StorMaxx™-NP-0200G-4FT | 200 | 137 | 40 | 48 | 1 | Click here |
| StorMaxx™-NP-0225G-4FT | 225 | 141 | 44 | 48 | 1 | Click here |
| StorMaxx™-NP-0250G-4FT | 250 | 155 | 48 | 48 | 2 | Click here |
| StorMaxx™-NP-0300G-4FT | 300 | 166 | 52 | 48 | 3 | Click here |
| StorMaxx™-NP-0400G-4FT | 400 | 185 | 58 | 48 | 3 | Click here |
| StorMaxx™-NP-0400G-5FT | 400 | 222 | 52 | 60 | 2 | Click here |
| StorMaxx™-NP-0500G-4FT | 500 | 206 | 64 | 48 | 4 | Click here |
| StorMaxx™-NP-0500G-5FT | 500 | 226 | 58 | 60 | 3 | Click here |
| StorMaxx™-NP-0600G-4FT | 600 | 227 | 70 | 48 | 5 | Click here |
| StorMaxx™-NP-0600G-5FT | 600 | 264 | 64 | 60 | 4 | Click here |
| StorMaxx™-NP-0700G-4FT | 700 | 241 | 76 | 48 | 6 | Click here |
| StorMaxx™-NP-0700G-5FT | 700 | 270 | 67 | 60 | 5 | Click here |
| StorMaxx™-NP-0800G-4FT | 800 | 267 | 80 | 48 | 7 | Click here |
| StorMaxx™-NP-0800G-5FT | 800 | 274 | 70 | 60 | 5 | Click here |
| StorMaxx™-NP-0800G-6FT | 800 | 281 | 63 | 72 | 5 | Click here |
| StorMaxx™-NP-0950G-5FT | 950 | 309 | 76 | 60 | 6 | Click here |
| StorMaxx™-NP-1000G-5FT | 1000 | 338 | 80 | 60 | 7 | Click here |
| StorMaxx™-NP-1200G-4FT | 1200 | 359 | 96 | 48 | 9 | Click here |
| StorMaxx™-NP-1200G-5FT | 1200 | 371 | 86 | 60 | 8 | Click here |
| StorMaxx™-NP-1300G-4FT | 1300 | 386 | 100 | 48 | 10 | Click here |
| StorMaxx™-NP-1500G-5FT | 1500 | 426 | 96 | 60 | 9 | Click here |
| StorMaxx™-NP-1500G-6FT | 1500 | 413 | 86 | 72 | - | Click here |
| StorMaxx™-NP-1700G-7FT | 1700 | 666 | 86 | 84 | 8 | Click here |
| StorMaxx™-NP-1900G-6FT | 1900 | 723 | 96 | 72 | 9 | Click here |
| StorMaxx™-NP-2000G-6FT | 2000 | 754 | 100 | 72 | 10 | Click here |
| StorMaxx™-NP-2100G-5FT | 2100 | 732 | 110 | 60 | 10 | Click here |
| StorMaxx™-NP-2200G-7FT | 2200 | 774 | 96 | 84 | 9 | Click here |
| StorMaxx™-NP-2500G-5FT | 2500 | 784 | 120 | 60 | 12 | Click here |
| StorMaxx™-NP-2800G-7FT | 2800 | 925 | 108 | 84 | 10 | Click here |
| StorMaxx™-NP-3500G-7FT | 3500 | 1064 | 120 | 84 | - | Click here |
| StorMaxx™-NP-4000G-7FT | 4000 | 1179 | 126 | 84 | - | Click here |
| StorMaxx™-NP-4500G-7FT | 4500 | 1278 | 135 | 84 | - | Click here |
| StorMaxx™-NP-5000G-7FT | 5000 | 1344 | 142 | 84 | - | Click here |
StorMaxx™ Series
Solar Tank Accessories