Flat Plate Solar Collectors
TitanPowerPlus™ flat plate solar collectors are an industry-leading line of flat plate solar collectors, built using revolutionary TiNOX titanium absorbers.
SRCC OG-100 Certified For Guaranteed Performance

TitanPower™ flat-plate solar collectors are SRCC OG-100 tested and compliant. This means that, when you buy a TitanPower collector, you can be confident that you're getting the performance and value you need from your solar hot water system.

Network Of Dedicated, Professional Installers

We've trained and certified over 3000 independent solar hot water installers and service professionals, both in the US and abroad; meaning that professional help for your SunMaxx solar thermal system is never more than a phone call or an email away.  

Residential Domestic Hot Water & Radiant Systems

TitanPower™ flat plate solar collectors are great for a variety of residential solar applications including traditional hot water systems, radiant/space heating and pool/spa heating

Commercial & Municipal Solar Heating Systems

TitanPower™ flat plate solar collectors are in use in commercial, municipal, educational and military solar hot water and heating systems in all sizes and designs across the United States and around the world
Related Documents & Downloads
Applications
Experience the exclusivity and top-notch performance of TitanPowerPlus™ collectors, designed to cater to a wide range of residential, commercial, and municipal needs, such as:
• Exceptional Domestic Hot Water • Efficient Radiant/Space Heating • Perfect Pool/Spa Heating • Streamlined Process Heating
Independently tested and OG-100 certified by the reputable Solar Rating & Certification Corporation (SRCC), our TitanPowerPlus™ collectors guarantee outstanding performance and a wise investment for your solar needs.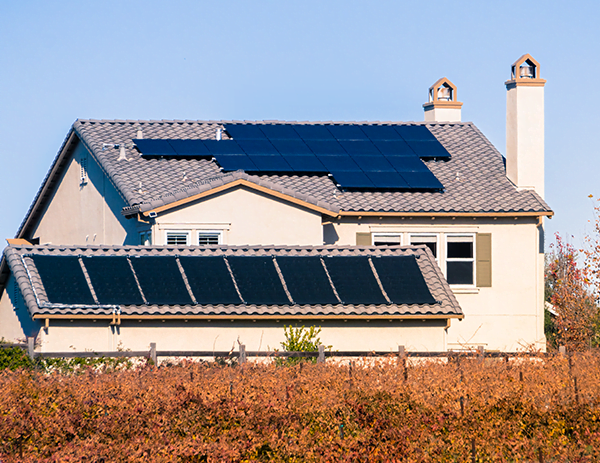 Questions?
Ready To Get Started?
Get more information or order our Flat Plate Solar Collectors:
Sizing Help:
To ensure proper connectivity with each solar collector, we highly recommend utilizing our flat plat collector accessory calculator to determine the necessary accessories.
AVAILABLE NOW
TitanPowerPlus™-ALDH29-V3
Introducing the TitanPowerPlus™-ALDH29-V3, an advanced laser-welded collector with a double header serpentine absorber, tailored for the design-conscious residential market. This innovative solar collector offers top-notch performance ratings at highly competitive prices.
The unique absorber mounting and laser-welded fixing are expertly crafted for serpentine Aluminum and Copper-based absorbers, ensuring durability and efficiency. The TitanPowerPlus™-ALDH29-V3 Solar Collector goes beyond exceptional performance, boasting an elegant and functional appearance. With its glass absorber coating, sleek aluminum siding, and refined mounting method, the TitanPowerPlus™-ALDH29-V3 resembles a stylish skylight, adding an aesthetic touch to your home.
| Model | | TitanPowerPlus™-ALDH29-V3 | |
| --- | --- | --- | --- |
| Dimensions (in) | | 45.2" x 92.8" | |
| Gross Collector Area (sqft) | | 29.47 ft2 | |
| Net Aperture Area (sqft) | | 27.7 ft2 | |
| Ratio (net / gross) | | 0.95 | |
| Dry Weight (lbs) | | 92.6 lbs | |
| Wind Rating | | 149 mph | |
Flat Plate
Collector Accessories
We recommend the below mounting accessories.
ALDH Series Connector Clips – V3

Enhance your SunMaxx flat plate compensator with this 2-piece set of robust, stainless steel accessories, complete with screws. Let our accessory calculator guide you in interconnecting your solar collector with…
Installation Image Galleries
Flat plate solar collectors, such as SunMaxx's TitanPower series, offer several advantages and disadvantages for residential and commercial applications.
Pros:
Aesthetics: TitanPower flat plate collectors feature a sleek design that blends seamlessly with most building exteriors.
Cost-effective: They provide an affordable option for harnessing solar energy without compromising on efficiency.
Easy installation: Flat plate collectors are simpler to install compared to other solar collector types.
Versatility: Suitable for various applications, including domestic hot water, radiant heating, and pool/spa heating.
Cons:
Efficiency: Flat plate collectors may be less efficient than evacuated tube collectors in colder climates due to their lack of freeze protection.
Size: Flat plate collectors often require more surface area to achieve the same energy output as alternative collector types.
SunMaxx TitanPower flat plate collectors harness cutting-edge technology to deliver superior performance, making them a top choice for most household and commercial solar projects.