SunMaxx Solar Thermal Webinars
We've prepared a series of simple webinar and educational videos to share some of both our own experience and customers experience with best practices to install your solar thermal system. 
SunMaxx Solar Thermal Training Videos & Webinars
---
Air pressure testing
avwFm87mDz
Pressure testing kits schemes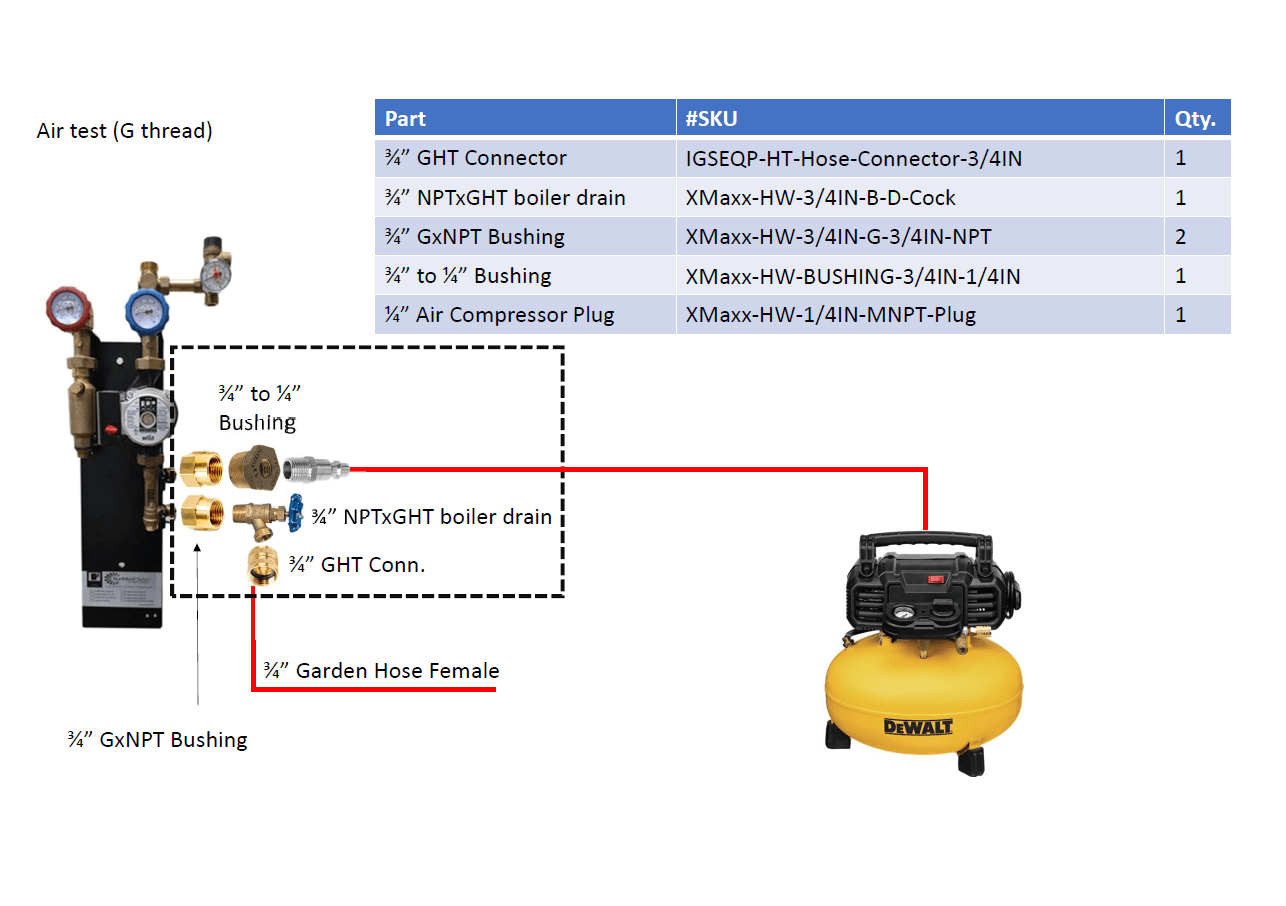 Parts in black box should be pre-assembled. Make sure you are using proper threading kit.
Before testing make sure system has no fluid inside - drain the system
Connect Air Test Kit like on the schemes above
Turn Flow Meter valve in horizontal position - allowing the air to go in via upper charging port
Open upper and bottom charging port valves (black valves)
Open boiler drain valve (connected to garden hose)
Turn on the Air Compressor
Wait a while for air to circulate in the system
Close bottom drain port and boiler drain valves
Build the pressure to 87 PSI
Close upper charging port valve and turn off the Air Compressor
Verify if no air leaks in the system
When system does not loose pressure for 10 minutes Air Test is completed.
Have a project?
Let's get started.
Contact our technical team to get help with design and planning specifications on your next solar thermal project.
Engineering
Design Solutions
SunMaxx Solar offers custom engineering solutions to help navigate the complexities of planning and installing a solar thermal system. 
From feasibility studies to full project management services, our team has participated in over 4,000 projects worldwide. Find below a list our standard services we provide for both commercial and residential applications. 
How much do engineering services cost? 
Our engineering services are sold in both packages and hourly rates depending on the size and scope of your project. Our aim is to deliver cost effective engineering services specifically designed for solar thermal customers. 
Our Engineering Solutions Include:
We provide complete turnkey project management from design to commissioning of your project. Our services include utilizing existing sub-contractors or introducing new contractors to facilitate the construction of your project.
Navigating the building code and planning requirements can be expensive and time consuming. Our in-house engineering team has extensive experience in working with planning and permit offices around the world, specifically for solar thermal systems.
Our services include preparing of full plan sets and permit packages to be submitted to the building departments.
Need a solar feasibility study for your next project? Let us help prepare energy models and financial feasibility reports for your upcoming project.
Typical projects fall in the commercial and industrial sector for this service plan.
Have a custom project which requires a specific heat transfer station or mounting system detail? Our engineering team can help provide full construction drawings for "on roof" or "off roof" solar thermal sub-assemblies.
Let our engineering team prepare custom solar thermal energy simulations using specialized solar thermal energy modeling software.
We offer remote and in-person full technical training on solar thermal system design and planning.
Additionally, we offer in facility training at our renewable energy training center located in Upstate New York.