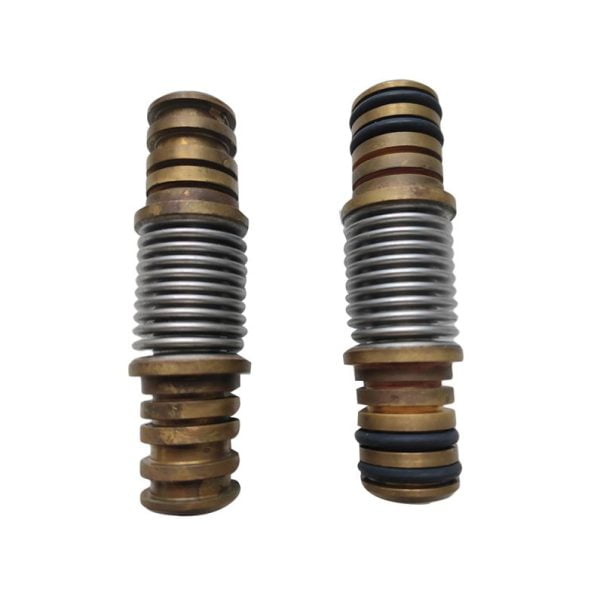 ALDH Series Connector (Coupling) (Single pc- w/o clamps) – V3
Opt for our all-in-one assembly, featuring a replacement silicone O-ring for TPALDH29 and a sturdy stainless steel build. Remember to add the necessary c-clamps  to your order. This single-piece, German-crafted accessory enables seamless interconnection of your solar collector.
How to order? 
Order online or contact sales team directly
24-hour online order confirmation
SunMaxx Solar™: solar hot water equipment manufacturer
Availability and production lead times subject to production queue
Direct-from-Manufacturer Pricing
Experience the value and benefits of our manufacturer-direct pricing on all online listings. For wholesale and distribution inquiries, we encourage you to reach out to our office to receive a tailored offer that meets your needs.
Looking to connect with our office? Give us a call at 1-877-786-6299, and we'll be happy to assist you!
Product Description:
Facilitate seamless interconnections between multiple ALDH29 collectors with our premium Compensator. This essential item is specifically designed to accommodate thermal expansion between solar collectors, ensuring a reliable and efficient system.
Two units of this compensator are required between each solar collector. Each compensator is constructed with a combination of stainless steel and brass, expertly welded together for durability and performance. The brass connection incorporates the proprietary VITON connection system to minimize leak risks, ensuring a robust and secure assembly.
Please note that this product is sold individually, not in sets. Each compensator requires two C-clamps, made of stainless steel (TitanPowerPlus-A-ALDH-COUPLINGCLAMP-V3), to secure the connections.
Key Product Features:
– Designed for interconnection of multiple ALDH29 collectors.
– Accommodates thermal expansion between solar collectors.
– Made of a mix of stainless steel and brass, welded together for strength.
– Equipped with the proprietary VITON connection system to minimize leaks.
– Non-solder connection ensures ease of assembly.
– Requires two C-clamps (TitanPowerPlus-A-ALDH-COUPLINGCLAMP-V3) per unit for secure installation.
– Made in Germany.
Invest in the Compensator for your ALDH29 solar collector project for a smooth and efficient setup. This essential component accommodates thermal expansion, a critical factor in solar thermal systems, to maintain optimal performance and system integrity. Its superior build quality, featuring a blend of stainless steel and brass, and the proprietary VITON connection system ensure a secure, leak-minimized installation. Choose this German-made, reliable compensator for long-lasting and hassle-free operation of your solar thermal project.
ALDH Series Connector Clips – V3

Enhance your SunMaxx flat plate compensator with this 2-piece set of robust, stainless steel accessories, complete with screws. Let our accessory calculator guide you in interconnecting your solar collector with…

ALDH29 Complete Package – NPT Adapter end caps -V3

Achieve secure connections with the TitanPower ALDH29 Adapter Kit. This complete brass set links standard 3/4″ lineset to your TitanPower ALDH29 flat plate solar collectors. Including an outdoor-rated end cap…
How can I check if my temperature sensor is working properly?
Dawid P
To check the temperature sensor you can use the digital multimeter tool and check the resistance of the sensor. A simple steps which allow to check the temperature sensor:
Turn the system off (electricity) - safety us the most important
Open the controller box
Check if the connection is not loose

If loose fix the connection by pushing the sensor wire inside the terminal
Close the controller box and check if that fixed the issue

Check the sensor wire resistance with multimeter (turn the multimeter switch to the resistance measurement) – reading should be around 1.101 kOhm at room temperature and around 1.250 kOhm for hot water

If readings are different sensor might need replacement
This short advice should help you to solve the problem.
Why SunMaxx Solar
Investing in a complete solar hot water kit from a single manufacturer is essential for ensuring the longevity and efficiency of your solar hot water system. A streamlined approach to sourcing components simplifies the process of installation, maintenance, and servicing.
By choosing a single manufacturer for your solar hot water kit, you can benefit from comprehensive documentation for service and maintenance. This approach helps prevent issues arising from improperly installed or maintained systems. Studies show that over 60% of solar hot water systems fail due to incorrect installation or lack of proper maintenance.
Purchasing a complete kit from one manufacturer guarantees compatibility between components and streamlined support from the provider. This ensures that you have access to knowledgeable experts who can address any concerns or questions related to your specific system. Furthermore, a single manufacturer can provide a unified warranty, eliminating the need to deal with multiple companies in case of any issues.
In summary, investing in a complete solar hot water kit from a single manufacturer is a wise decision for homeowners and businesses alike. It ensures smooth installation, proper maintenance, and reliable long-term performance, maximizing the return on your investment and providing a sustainable hot water solution.