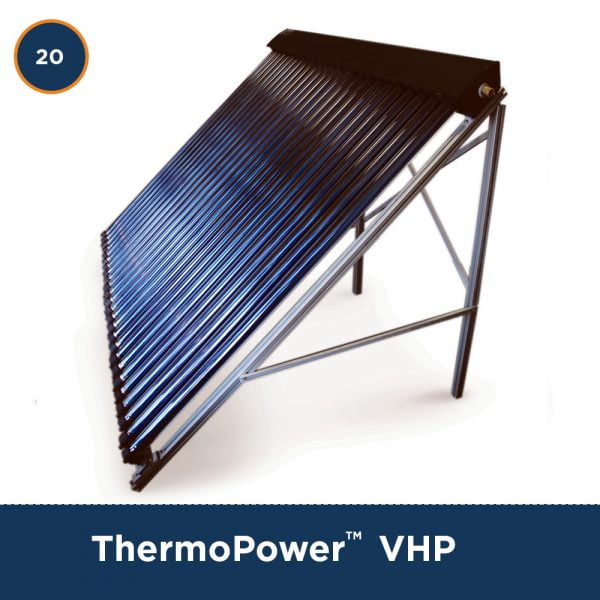 ThermoPower™ 20 Tube Evacuated Tube Collector
10 Year SunMaxx Warranty
1″ NPT Connections
Manufactured since 2006
OG-100 Certified
30 Tube Evacuated Tube
Drainback or Closed Loop System
How do I order? 
Orders can be placed online using the online ordering system. Our office will contact you to confirm your order, shipping details, and payment.
SunMaxx Solar is a manufacturer of solar hot water equipment, availability and production lead-times vary based on our production order queue
Manufacture Direct Pricing
Please note the referenced prices online are for manufacturer direct pricing only. For wholesale & distribution inquires, please contact our office for an offer.
Want to speak with our office? Call us 1-877-786-6299
Quick Sizing Tools - Save time and energy!
Click to calculate how many connections & parts are needed for interconnected multiple solar panels together!
Click here to calculate what type and how many mounting kits you need to install your VHP20 to various roof types!
Evacuated Tube Collector ThermoPower™ VHP Series
SunMaxx Solar offers pre-packaged solar hot water heating systems for both the do-it-yourself customer and the professional installer. Each system includes the primary components required when installing a solar hot water heating system. It is our goal to keep our product cost low in order to ensure that we are making renewable energy products more affordable to the community.
Superior Performance
Evacuated Tube Solar Collectors are extremely efficient and cost-effective particularly in colder climates where other Solar Collectors suffer from limited performance and other problems due to their lack of freeze protection. Evacuated Tube Collectors unlike others are extremely freeze protected leading to efficiencies of over 70% even in freezing temperatures. The unique design and collection properties of these collectors make them exceedingly efficient even in low-light conditions which is another definite advantage during winter.
Evacuated Tube Solar Collectors are designed to efficiently provide hot water for a number of applications in climates and locations across the United States and around the world. SunMaxx customers use the SunMaxx 30 for domestic hot water radiant heating and pool/hot tub heating every day at residential commercial industrial and municipal locations.
SunMaxx Evacuated Tube Solar Collectors are the most affordable cost-effective solar collectors available on the market today.
High operational safety

92% coating absorbance

Suitable for flat roof

Adjusted to mount and connect to large solar installations

Tilt angle up to 75 degrees
Ready mounting system provided

10 years performance warranty

25-30 years expected lifetime

SRCC & Solar Keymark Certified

Free technical support
Collector Mounting Hardware Options
Not sure where and how you want to mount your collector? No problem. Try our Mounting Hardware Calculator to see which and how many sets you need to install VHP30 collectors in your system.