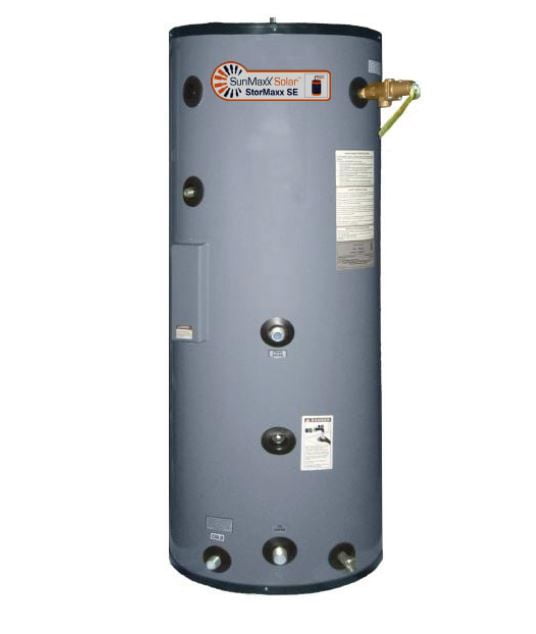 119 Gallon Pressurized Electric Backup Tank With 2 Heat Exchangers
119 gallon StorMaxx SE Tank
2 heat exchangers and electric element
for 2 collector ~ 89 ft2
for domestic hot water primarily
27.6in x 74.6in (DxH)
How to order? 
Place your order online or contact our office to order directly with the sales team.
Orders placed online will be confirmed within 24 hours by our order team.
SunMaxx Solar™ is a manufacturer of solar hot water equipment.
Availability and production lead-times vary based on our production queue.
Manufacturer Direct Pricing
Please note the referenced prices online are for manufacturer direct pricing only. For wholesale & distribution inquires, please contact our office for an offer.
Want to speak with our office? Call us 1-877-786-6299
SunMaxx StorMaxx™ SE Solar Tank water heaters, offer a cost-effective water heating alternative. These tanks include a back-up electric element, which allows for the versatility of a stand alone solar water heater, or pipe it in as a pre-heat solar system.
The StorMaxx™ SE is a durable porcelain enamel, glass-lined tank. Highly resistant to aggressive water. Not susceptible to damage due to the presence of chloride in the water. Built to last-inner tank is hand-crafted from heavy gauge steel. Longer life equals to higher return on investment. Outer jacket made from steel and powder coated for a lasting, durable finish.
StorMaxx™ SE Tank Features
Suitable for 3 collector ~ 88.5 f

t2

required

Less Heat Loss up to 30 %

2 Heat Exchanger inside the tank

Designed primarily for domestic hot water
4500W Electric back-up Element-UL listed

Serpentine Coil: single wall steel plate (ST 37.2)
What parts & accessories do I need?
Universal fittings (for FlowMaxx series piping). Easy to stock in your tech-van, less parts to inventory.