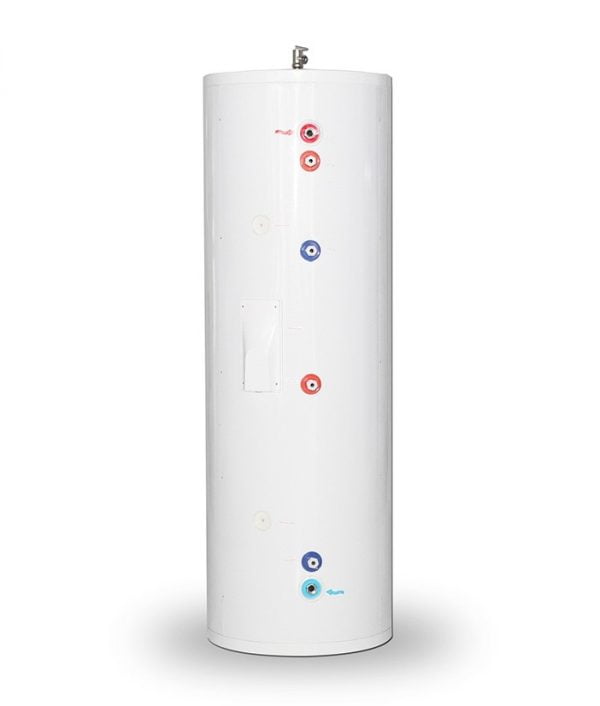 80 Gallon StorMaxx™ ETEC Solar Hot Water Storage Tank – 2HX
The tank specifications include a volume of 80 gallons, weight of 175 pounds, diameter of 22.5 inches, height of 69 inches, and two heat exchangers. The technical features comprise an outer tank material and thickness of 0.016 inches, inner tank material and thickness of 0.06 inches, heat exchanger coil material of stainless steel SUS316L 0.4mm corrugated pipe, a working pressure of 58 psi, temperature range of up to 167°F, polyurethane insulation material, a 1-inch diameter additional electric element port, and the electric element is not included.
How to order? 
Order online or contact sales team directly
24-hour online order confirmation
SunMaxx Solar™: solar hot water equipment manufacturer
Availability and production lead times subject to production queue
Direct-from-Manufacturer Pricing
Experience the value and benefits of our manufacturer-direct pricing on all online listings. For wholesale and distribution inquiries, we encourage you to reach out to our office to receive a tailored offer that meets your needs.
Looking to connect with our office? Give us a call at 1-877-786-6299, and we'll be happy to assist you!
Are you looking to save energy costs and reduce your environmental footprint? Look no further than the StorMaxx™ ETEC solar tank! This 80 gallon tank is ideal for storing hot water without any contamination. The inner material is made of durable stainless steel, SUS 316L, ensuring long-lasting performance. You won't have to worry about losing heat quickly due to the thick polyurethane insulation.
The tank also includes two bare tube steel coil heat exchangers for optimal heat exchange. The copper coil is made of .6in diameter tubes and an electric element can be added to the 1in port. So you can enjoy uninterrupted hot water all year round. What's more, you can trust this tank to help reduce your energy costs and lower your environmental impact.
Don't settle for anything less than the StorMaxx™ ETEC solar tank! This 80 gallon tank stands out for its high quality materials, outstanding thermal performance, and eco-friendly design. Shop with confidence, knowing you're getting one of the best solar hot water storage tanks available!
StorMaxx™ ETEC Tank Features
Long lifetime due to Stainless Steel SUS 316L

2 Heat Exchanger inside the tank

Excellent thermal performance
Suitable for domestic 

installations
What parts & accessories do I need?
Universal fittings (for FlowMaxx series piping). Easy to stock in your tech-van, less parts to inventory.
The 80G StorMaxx™ ETEC Solar Storage Tank – 2HX is the perfect hot water solution for your home or business. Our high-quality solar hot water storage tank offers industry leading features such as superior extra-thick stainless steel construction, double-walled insulation to keep heat in, and a large 80-gallon capacity. Supporting up to 4 solar collectors, our tank is ideal for larger households that demand a lot of hot water. With a corrosion-resistant enamel coating, the tank is built to last and pass any quality assurance test. This heavy-duty solar storage tank also includes a temperature gauge and safety valves for added peace of mind. Upgrade to the StorMaxx™ ETEC tank today to experience the advantages of solar hot water.
Why SunMaxx Solar
Investing in a complete solar hot water kit from a single manufacturer is essential for ensuring the longevity and efficiency of your solar hot water system. A streamlined approach to sourcing components simplifies the process of installation, maintenance, and servicing.
By choosing a single manufacturer for your solar hot water kit, you can benefit from comprehensive documentation for service and maintenance. This approach helps prevent issues arising from improperly installed or maintained systems. Studies show that over 60% of solar hot water systems fail due to incorrect installation or lack of proper maintenance.
Purchasing a complete kit from one manufacturer guarantees compatibility between components and streamlined support from the provider. This ensures that you have access to knowledgeable experts who can address any concerns or questions related to your specific system. Furthermore, a single manufacturer can provide a unified warranty, eliminating the need to deal with multiple companies in case of any issues.
In summary, investing in a complete solar hot water kit from a single manufacturer is a wise decision for homeowners and businesses alike. It ensures smooth installation, proper maintenance, and reliable long-term performance, maximizing the return on your investment and providing a sustainable hot water solution.