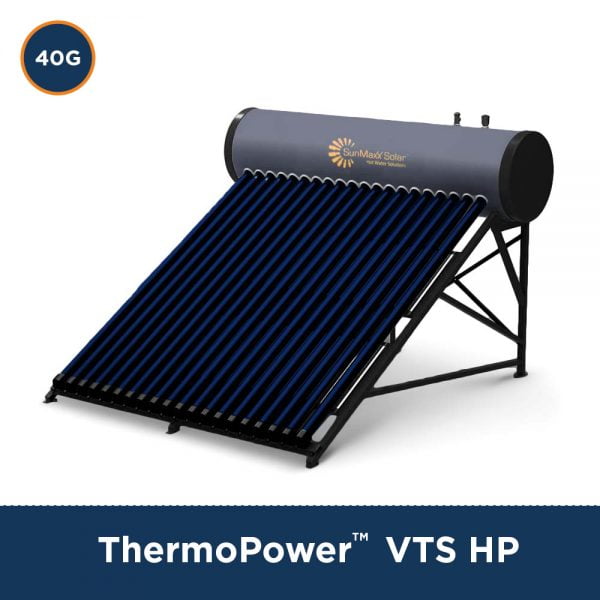 DIY Solar Hot Water ThermoPower™ VTS 15 Tube / 40G Thermosyphon by SunMaxx
10 Year SunMaxx Warranty
3/4″ NPT Connections
Suitable for 1-3 people
Manufactured since 2006
OG-300 Certified – Certified for Solar Tax Credits
40 Gallon integrated storage
No pumps or controller required
How do I order? 
Orders can be placed online using the online ordering system. Our office will contact you to confirm your order, shipping details, and payment.
SunMaxx Solar is a manufacturer of solar hot water equipment, availability and production lead-times vary based on our production order queue
Manufacture Direct Pricing
Please note the referenced prices online are for manufacturer direct pricing only. For wholesale & distribution inquires, please contact our office for an offer.
Want to speak with our office? Call us 1-877-786-6299
Quick Sizing Tools - Save time and energy!
Click to calculate how many connections & parts are needed for interconnected multiple solar panels together!
Click here to calculate what type and how many mounting kits you need to install your VTS15 to various roof types!
Evacuated Tube Solar Collector VTS Series
SunMaxx Solar offers pre-packaged solar hot water heating systems for both the do-it-yourself customer and the professional installer. Each system includes the primary components required when installing a solar hot water heating system. It is our goal to keep our product cost low in order to ensure that we are making renewable energy products more affordable to the community.
Thermopower™ Thermosyphon Collectors
ThermoPower™ VTS thermosyphon collectors are the perfect low-cost, easy-toinstall solar hot water systems for warm climates. Without the need for a pressurized glycol system, thermosyphon collectors help keep the cost of going solar lower than ever before. Each kit includes high-performance ThermoPower™ evacuated tube collectors, an integrated storage tank and tilt / flush mounting hardware.
Our DIY residential solar hot water systems are complete packages that are ready to install and provide affordable, efficient solar hot water in warmer climates where cold days are few and far-between. Each system includes a heating tank and high-efficiency solar collector integrated together for simplicity and affordability.
SunMaxx VTS thermosyphon Solar Collectors are among the most affordable cost-effective solar collectors available on the market today.
High operational safety

40G outdoor rated solar hot water storage tank included

Simple integration into building structure.

Perfectly built for warmer, southern climates

Adjusted to mount and connect to large solar installations
Ready mounting system provided

10 years performance warranty

15-20 years expected lifetime

SRCC & Solar Keymark Certified

Free technical support
Collector Mounting Hardware Options
Not sure where and how you want to mount your collector? No problem. Try our Mounting Hardware Calculator to see which and how many sets you need to install VTS15 collectors in your system.