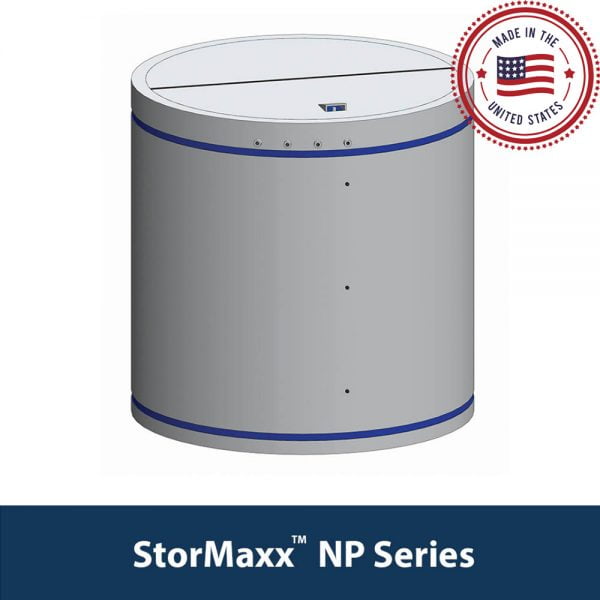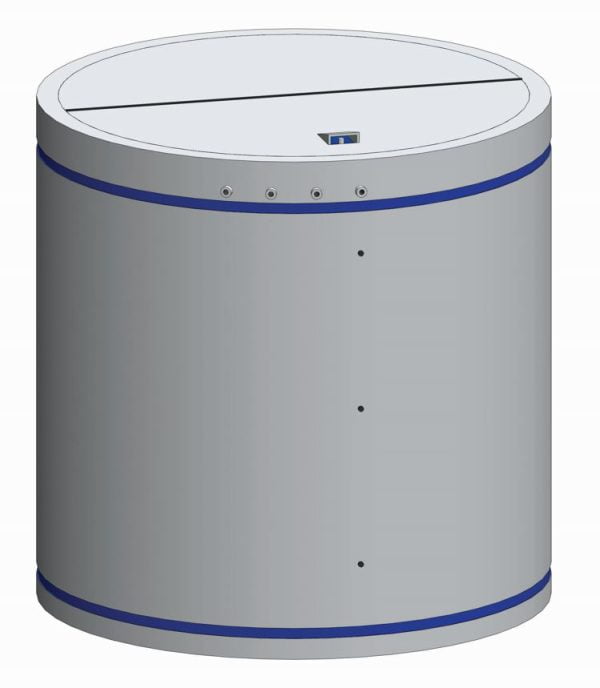 1700 Gallon Non-pressurized Buffer Tank
The 1700 Gallon Commercial Solar Hot Water Storage Tank is a high-capacity, reliable solution designed to meet your diverse heating needs. With its unique folded construction and compatibility with up to eight heat exchangers, this American-made tank is a versatile choice for a wide range of settings. Its design and features offer a time-saving solution that reduces installation costs and ensures efficient operation. This tank is a substantial investment towards a durable, efficient, and cost-effective heating solution.
How to order? 
Order online or contact sales team directly
24-hour online order confirmation
SunMaxx Solar™: solar hot water equipment manufacturer
Availability and production lead times subject to production queue
Direct-from-Manufacturer Pricing
Experience the value and benefits of our manufacturer-direct pricing on all online listings. For wholesale and distribution inquiries, we encourage you to reach out to our office to receive a tailored offer that meets your needs.
Looking to connect with our office? Give us a call at 1-877-786-6299, and we'll be happy to assist you!
Presenting the 1700 Gallon Commercial Solar Hot Water Storage Tank, an optimal choice for Large Domestic Hot Water Preheating and small radiant/space heating applications. Ideal for residential, commercial, and municipal settings, it is manufactured in the USA.
Specifications
Dimensions: 86in x 84in (D x H)
Max Temperature: 180 °F
Construction: Round embossed aluminum
Wall Material: EPDM Liner
Cover sheet: Aluminum
Insulation Material: Isocyanurate
Maximum heat exchangers: 8 (purchased separately)
Product Highlights The tank features a unique folded construction, designed to fit through a standard 32″ door, simplifying transportation and installation. A convenient water fill port is located at the top of the tank for easy maintenance.
Incorporating this tank into your solar hot water installation process significantly reduces time and costs. Its design ensures effortless assembly, saving labor costs. The tank can support up to eight heat exchangers, further enhancing its efficiency and versatility. Using the latest technology, it provides reliable hot water preheating and space heating.
StorMaxx™ NP Tank Features
Suitable up to 40 collectors ~ 1160 f

t2

required

Max 8 heat exchanger inside the tank

Standard sensor ports for all tanks – see in tech. specification

Solar & Ice Storage Buffer Tank

Perfect for Large DHW Preheating and for small radiant/space heating
Foldable design, easy to transport and move through standard 32″ doors

Possibility to designate port locations for the manufacture of your tank

Water fill port at the top of the tank (1″) included

Tanks made in USA

Heat exchangers made in USA
What parts & accessories do I need?
Heat exchangers are not included with a tank. They must be purchased separately. For the assistance please call our sales representative.
StorMaxx™ NP Port Location Guide
Possibility of designing port locations for the manufacture of your tank.
Please use the information below to complete the diagram. StorMaxx™ NP Port Location Worksheet can be downloaded in Downloads & Datasheet section down below the page.
Directions
The image on right represents three diagrams of an NP tank. You will be writing on the EXTERNAL TANK SURFACE diagram to designate port locations for the manufacture of your tank. Please use the information below to complete the diagram.
Sensor Ports
Sensor ports are standard on all tanks. All 4' tall tanks get 2 sensor ports, one 2" below the water level, and one 2" above the water base. All tanks taller than 4' get a third sensor port centered between the other two. Sensor ports are placed near requested piping ports unless otherwise specified.
Piping Ports
You must choose the ports you want installed in the tank and specify their locations. Above water level pass-throughs should be placed on the blue line. Available ports are listed in the chart below. On the EXTERNAL TANK SURFACE diagram, draw a circle where you want each port, and write the letter code from the chart below in the circle designating the port type. If you want your below water level ports at specific heights, write the measurements on the diagram.
Above Water Level Ports
Available PVC Pass-Throughs
| Code | Diameter (in) | Suitable for: |
| --- | --- | --- |
| A | 1 | 3/4" copper |
| B | 1-1/4 | 1" copper, 3/4" SS flex |
| C | 1-1/2 | 1-1/4" copper, 1" SS flex |
| D | 2 | 1-1/2" copper |
StorMaxx™ NP Solar Tank Applications
Non-pressure solar storage tanks are an excellent way to store a lot of energy for a low cost. Our tanks outlast most pressurized steel tanks. Find a list of some common applications below.
Hotel and restaurants

Commercial projects

Dairy farms
Office buildings

Students dormitories

Hospitals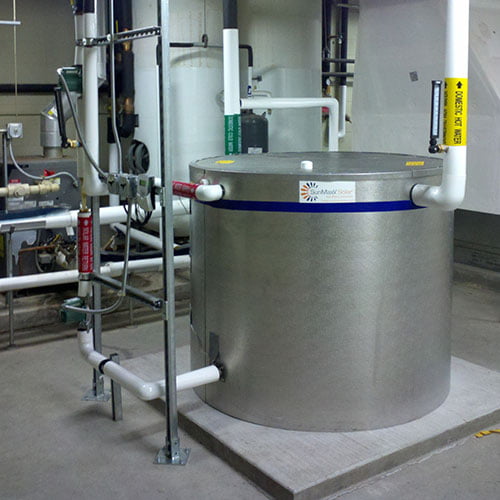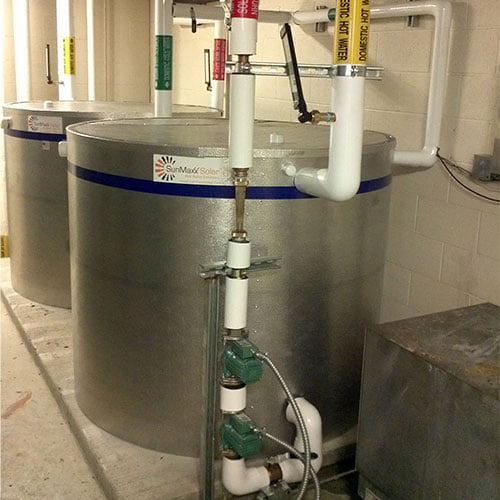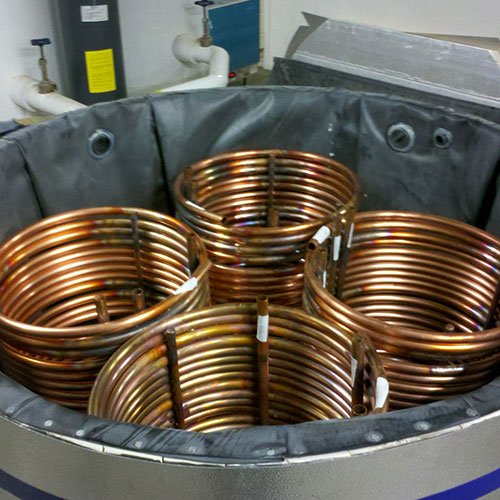 Why SunMaxx Solar
Investing in a complete solar hot water kit from a single manufacturer is essential for ensuring the longevity and efficiency of your solar hot water system. A streamlined approach to sourcing components simplifies the process of installation, maintenance, and servicing.
By choosing a single manufacturer for your solar hot water kit, you can benefit from comprehensive documentation for service and maintenance. This approach helps prevent issues arising from improperly installed or maintained systems. Studies show that over 60% of solar hot water systems fail due to incorrect installation or lack of proper maintenance.
Purchasing a complete kit from one manufacturer guarantees compatibility between components and streamlined support from the provider. This ensures that you have access to knowledgeable experts who can address any concerns or questions related to your specific system. Furthermore, a single manufacturer can provide a unified warranty, eliminating the need to deal with multiple companies in case of any issues.
In summary, investing in a complete solar hot water kit from a single manufacturer is a wise decision for homeowners and businesses alike. It ensures smooth installation, proper maintenance, and reliable long-term performance, maximizing the return on your investment and providing a sustainable hot water solution.